Mobile computing is a bundle of technologies that allows transmission of data, voice, and video via a computer, smartphone, or any other wireless-enabled device without having to be connected to a fixed physical link. It comes with the promise of greater efficiency and flexibility for the management accounting profession.
Basically, the term refers to the use of portable computing devices (e.g., laptops, cell phones, and tablets) in conjunction with mobile communications technologies to enable users to access needed data anywhere, anytime. This means that many of us are constantly connected to friends, family, and coworkers for everything social and for business-related activities.
Smartphones and other mobile devices are now more powerful than computers were in the early to mid-2000s and are just as powerful as some computers today. As these devices continue to develop, so will the environment in which we operate and our ability as individuals to adapt to change. The change in environment coupled with the expanding use of cloud applications means increased expectations for how we access content we want or need. This content can range from media (e.g., music and videos) to social networking to work-related budgeting information and disclosure.
Changes of this magnitude impact not only management accountants but also IT departments and vendors. Accounting departments need to determine best practices as well as how to meet their needs in an ever-changing mobile, interconnected, real-time environment.
For those of us outside IT, it means that, in addition to e-mail we may already receive and respond to on mobile devices, we may be asked to present data and modify documents on the fly. With the expansion of job responsibilities, accountants will need to work with IT personnel to ensure company data is secure (breaches result in leaked confidential information and cost significant dollars each year) and to select the best modes for distributing information to their customers. They also need to ensure the technology improves existing processes or enhances a user's experience.
If your organization decides to proceed with adopting mobile computing or modifying an existing mobile computing infrastructure, this can mean several things to its Accounting department. Table 1 provides some of the benefits and risks you can expect with mobile computing (the list isn't all-inclusive).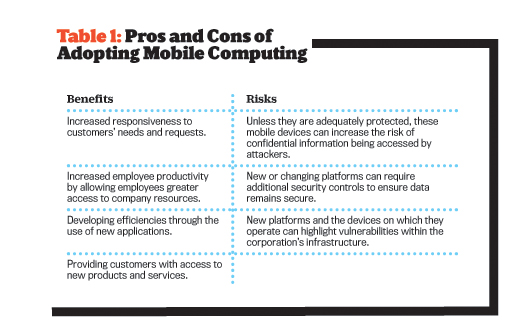 Through the use of mobile computing, several organizations have increased product and service offerings to their customers with improved efficiency and are now able to respond to their customers in a more timely manner. Examples of this can be seen in all fields, including the medical and finance fields and higher education. Such examples include:
Medical practitioners can now monitor and keep in contact with their patients from anywhere and at any time, which allows them to prescribe and adjust medications on the fly.


Financial institutions, big and small, have created mobile-friendly pages that allow both current and existing customers to open accounts and complete other financial-related activities.


After seeing the impact of mobile computing in business, universities such as Webster University, Carleton University, and San Jose State University have begun to offer either degree programs or concentrations in mobile computing.
To find out more about new technologies, IMA's Technology Solutions & Practices (TS&P) Committee has created a blog that discusses various technology topics. You can join the conversation in our LinkUp IMA community at http://bit.ly/TSPCommunity.