THE PROFESSION, NOW AND IN THE FUTURE
Perhaps the biggest challenge for accountants is defining the role of the profession—and therefore their jobs. ACCA (Association of Chartered Certified Accountants) has been warning accountants about the need to adapt for a long while now. Founded in 1904, ACCA is an authority on the profession, but even this organization remains unsure about the exact nature of accounting's future. The organization has repeatedly stressed the need for accountants to future-proof their livelihoods by keeping an eye on the horizon. Crunching the numbers, counting the beans: These are no longer accountants' only responsibilities.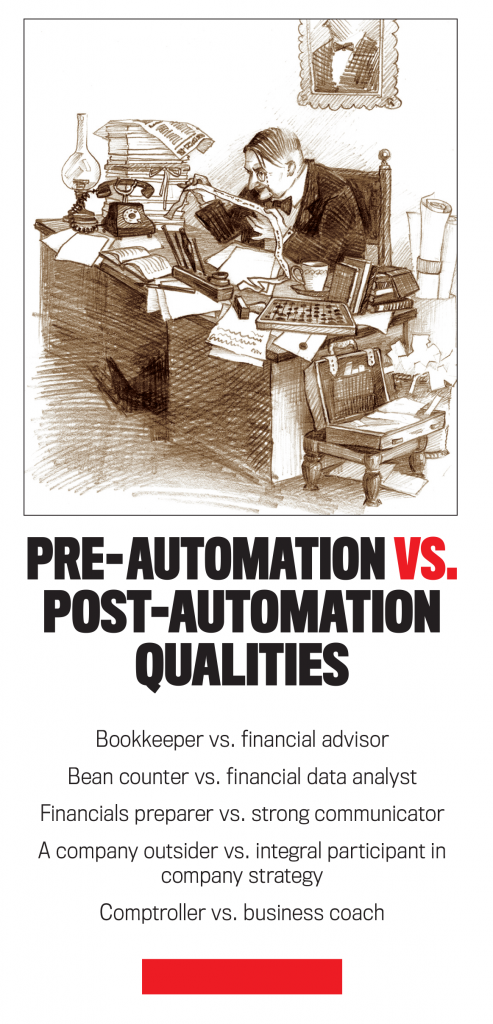 Large accounting businesses are already taking note of changing trends that could impact the profession. Research on cognitive technologies conducted by Big 4 accounting firm Deloitte suggests that accountants can look to new technologies such as AI to enhance and grow their practices. In the report, Cognitive technologies: The real opportunities for business, the firm said that advancing uses of AI will allow the development of customer service, research and development, logistics, sales, and marketing in accounting firms.
In the United States, hiring trends for accountants have been changing slowly in recent years. The Affordable Care Act—also known as Obamacare—has increased the need for compliance work. This, as a direct result, has led to compliance and internal audit professionals being in high demand. According to financial services recruitment expert Robert Half, easy hiring of accountants is over, which is a positive development for those worried that the industry is gearing up to shed employees.
Yet these current trends and the strong need for financial service workers won't last forever. Looming changes to jobs and opportunities are clearly evidenced by the World Economic Forum (WEF) report The Future of Jobs. Published in 2016, the report found that many of today's most in-demand jobs didn't exist 10 years ago and that 65% of children in kindergarten are expected to take job roles that don't currently exist. But what does this mean for accountants, and how can the industry prepare?
GETTING DOWN TO SPECIFICS
There will be a need for all accountants to develop specific roles. In a blog post titled "Accountants will become more like lawyers in the future," U.K. accounting guru Mark Lee notes that accounting professionals face a stark choice: The best ones, he says, "will specialize and niche their practices….They will not attempt to be all things to all people." Essentially, accountants will have to mirror the work patterns of their professional-service brethren—lawyers—by focusing on specific areas of tax and business coaching.
As Deloitte has explained in its report Cognitive technologies, the need for specification of jobs is deeply rooted in advancing technologies, and accounting will not go unscathed. The number of accounting jobs worldwide will likely decrease, a reality that Richard Anning, the head of the IT faculty for the Institute of Chartered Accountants in England and Wales (ICAEW), recognized in an interview with economia, the business, finance, and accounting publication. But, as Anning points out, this shift relies in part on how we currently define accountants. For many members of the public, the profession is one of churning through numbers for businesses. But, as we know, accounting is so much more than that. Investigative accounting, for example—when companies track down fraud to its roots—isn't a mere exercise in bookkeeping. The forensic and technical nature of these functions will take advantage of better technology, not be replaced by it.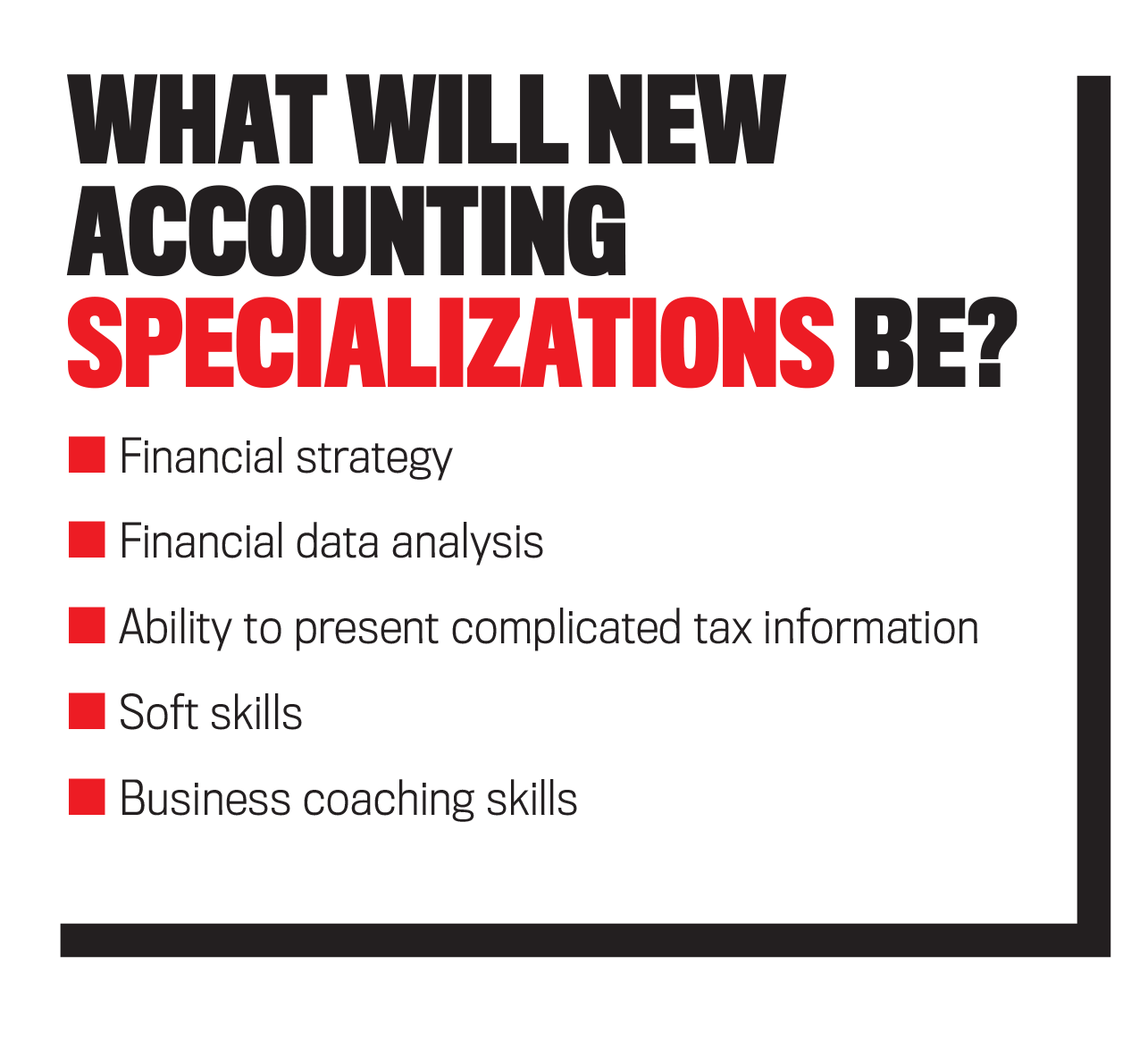 It will be narrower areas such as those of bookkeeping and process-driven auditing that will be subject to greater degrees of automation. But this will leave room to expand into other aspects of tax and business. Though accounting isn't famed for taking a progressive stance toward technological innovation, accountants must gear up for the incoming changes.
SoMoClo
Of course, it isn't just in the U.K. that the tremors of change are starting to take effect. SoMoClo technologies: transforming how and where business takes place, a joint research project from ACCA and IMA® (Institute of Management Accountants), has concentrated on the power of social, mobile, and cloud (known as SoMoClo) to change the way that accountants interact with their clients and customers.
Ng Boon Yew, the chairman of the ACCA Accountancy Futures Academy and executive chair of Raffles Campus Pte Ltd, describes this coming together as a key convergence of collaborative technology that will help boost the work of finance professionals across the world.
"Accountants and other finance professionals now have the opportunity to create the responsive and flexible companies they have perhaps not even contemplated before," Ng explains.
"Even as the technologies proliferate, however, finance professionals will not necessarily find that using them to drive change is easy, and the process will not be without dangers and challenges along the way," he continues. "Above all, the move towards a new kind of company is not a purely technological journey but one that will change the way people work: what they do, where they are, what they know, and how they interact with co-workers, colleagues and clients."
Moving to the cloud will be particularly important. In the beginning, businesses may have begrudgingly accepted the cloud—ironically anticipating a loss of ­functionality—but they're now largely pleased to see cloud software dramatically outperforming its desktop predecessor. Moving to the cloud also brings a range of opportunities that weren't previously available. Accounting practices with cloud software enter the world with a very strong statement and value proposition.
One of the other benefits of cloud software is the increased analysis of data that's made available to businesses. The time freed from doing repetitive tasks (made easier by increased use of AI) can be used to analyze data collected by cloud software. Cloud storage and analysis let businesses spot trends and provide clients with crucial services before they know they need them.
Put simply, by leveraging the power of SoMoClo, accounting and finance sectors can increase their own considerable capabilities. People are now inseparable from their smart devices, and this is something that must be taken advantage of. Using the available technology can put accounting and other financial advice at the heart of all business meetings and, subsequently, decisions, increasing the importance of accounting as a profession.
AREAS TO WATCH
Accountants must remember: To deny the existence of startups and businesses that want to relegate accounting to the professional scrapheap is foolish. Earlier this year, Smacc, a startup that uses AI to automate accounting, raised $3.5 million in Series A funding. While Smacc is by no means the only business doing this, it's exploring levels of automation and machine learning that could result in advances down the line that incorporate higher-value tasks (i.e., consulting, data analysis) that groups like ICAEW advocate.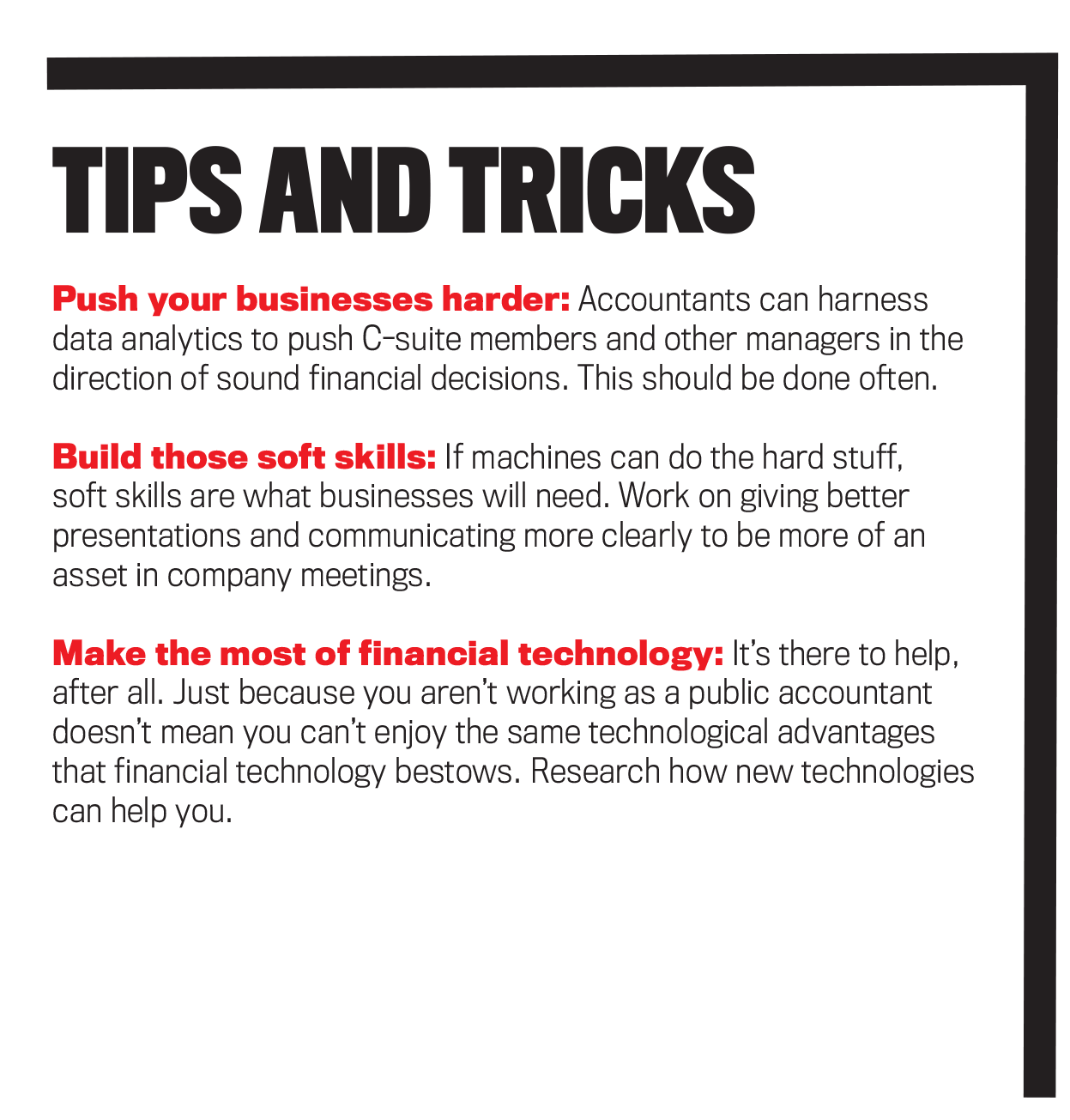 International consulting firm McKinsey offers a few glimmers of comfort, though, explaining that entire occupations likely won't be replaced. In A future that works: Automation, employment, and productivity, McKinsey says that while fewer than 5% of all occupations can be fully automated, 60% of jobs have up to 30% constituent tasks that can be subject to automation. Monetarily, nearly $16 trillion of wages can be replaced. This means activities that are more repetitive and mundane—such as data collecting or number crunching—are ripe for automation. Accountants everywhere must be ready for these changes, which are slowly rolling toward the profession.
A paper published in 2013 by Carl Benedikt Frey and Michael A. Osborne of Oxford University declared that half of all American jobs would be automated within 10 or 20 years. Those jobs destined to go will be from the lower-paid end of the spectrum first, something that Anning also asserts. McKinsey predicts that 45% of jobs being lined up for the axe are going to be replaced by technology that already exists. So this obviously doesn't take into consideration the technology of the future.
THE NEWS ISN'T ALL BAD
But what other strengths do our human bean counters have? What comfort can accountants take in their profession as it currently stands? For Anning and others, the main benefit is the human touch. Since many people hate communicating with automated voice calls and faceless customer service systems, they will equally want their complicated tax payments explained to them in person, with options available to help them reduce the impact of different costs and legal hurdles. This is just one small example.
Accounting has to evolve. The good news, though, is that there is a well-defined need for accountants to make their own way and define the future of the profession. The WEF expects that around 35% of skills will be different in the near future and that students currently in university or college will need to be ready to learn new skills the moment they graduate. This is due to the fact that required skills will be quite different in a few years, with day jobs reflecting these changes.
There are ways that accountants can diversify and support the C-suite teams they serve, adding more value than traditional number crunching. Many accountants say they're too busy to diversify, not realizing that growth is needed to advance beyond simple accounting jobs to reach a point where real advice and business coaching can be delivered in board meetings and elsewhere. This is something that no machine can replicate.
Perhaps most important, accountants need to focus on flexing their considerable business acumen; they must help businesses succeed by supplying their knowledge, too. Accountants know better than any other professionals the intricate workings of finance and what businesses need to do to survive. Instead of just answering the most basic of questions—or performing administrative tasks—accountants must look to sell their hard-won expertise and insight.
MOVING FORWARD
The media may paint a picture in which all data-driven jobs are run by robots instead of people, but that simply isn't the case. As Anning says, there will be a need for a human touch. Accountants should build toward business coaching alongside the interpretation of numbers and the tricky tax questions that they are traditionally employed to tackle.
It's best to be prepared. The deep impact of AI, machine learning, and other technologies is already being talked about, so no one will be able to cry ignorance if they lose out in the near future. This isn't the rehearsal, nor is it amateur hour. Accountants must prepare to battle the difficulties coming their way, but they must also be prepared to seize opportunities as they become available.
Accounting is by no means an easy job, which means the hard-working men and women already calling this profession their own are more than equipped to tackle these challenges head-on. By getting ready and being prepared for change, accountants will make the transition easier for themselves and the profession as a whole.