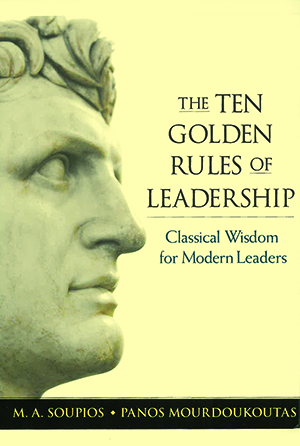 The Ten Golden Rules of Leadership: Classical Wisdom for Modern Leaders by M.A. Soupios and Panos Mourdoukoutas distills these philosophies into 10 golden rules that will guide developing leaders to conduct an essential self-examination. The authors define leadership as "an uncommon composite of skill, experience, and ripened personal perspectives" and make it clear that great leadership is less about outward actions and more about inward, contemplative disciplines.
Emulating good leadership and diagnosing bad leadership will be easier after putting into practice these 10 inner disciplines. The authors claim that leadership requires a "philosophy of life" that takes work to develop and maintain, and they draw from classical philosophers to support their views. For example, Rule 1, Thales's "Know thyself," may seem self-evident, but completing this important first step requires inward, often stressful, self-examination. Indeed, you will pay a price for real leadership, but failed leadership costs you (and your team) much more.
Other rules are freeing for the leader, such as Rule 4, Aristophanes's "Do not waste energy on things you cannot change." Instead, say the authors, leaders should focus on the things they can change, such as corporate goals and priorities or selection of people for key staff positions. Financial professionals will appreciate Rule 8, "Always evaluate information with a critical eye," which explains that "numbers too can be made to 'dance' in ways that have little connection with objective reality." And Rule 10, "Character is destiny," emphasizes personal responsibility and acceptance of our role in events.
While there are many books about management and leadership, few adopt such an inward focus: Lead yourself before you lead others. Both current and aspiring leaders can benefit from this book.