More often than not, transformations are big, complex, expensive, time-consuming, and, theoretically at least, should have a significant positive impact. Put simply, transformations are all about trying to change the way you do business whether on a global, enterprise-wide scale or one that's more limited.
Management may embark on a business transformation for many reasons. First, the organization may simply need it. On a macro level, the company is faced with globalization of markets and operations, new regulations and standards, greater business complexity, evolving technologies, and more disruptions. On a micro level, it may be struggling because of a shift in customer demands, strong competition, weak leadership, or other challenges. Business transformation may be the answer.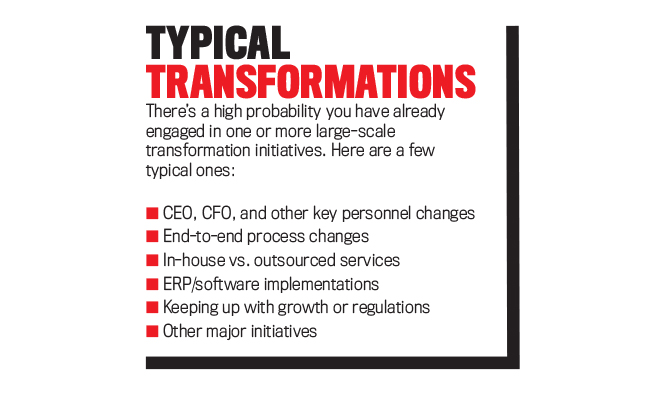 Likewise, management may set a new strategic direction for a function, an operation, or the overall company, whether to seize a new opportunity or to address an anticipated future disruption. For example, after years of only offering shelf-stable products (those that can stay safely unopened on a shelf for at least a year and be eaten as is), a food manufacturer may strategically shift into offering fresh, organic, and/or other on-trend products.
To do so, the company may create a new business unit or division, transform its supply chain, and redirect the priorities of its sales organization. Or it may ambitiously acquire start-up businesses that have already proven successful in this space. Management will also need to ensure that Finance, HR, and other supporting functions are appropriately aligned and incented to support the new strategy.
Management's decision to initiate a transformation may also be in response to an external influence. For example, if all the company's competitors are now leveraging zero-based budgeting (ZBB), or consultants are saying that "best practice" is to outsource certain functions, or analysts are applying pressure for a given direction, management may react accordingly.
What would happen at your company if you were faced with a transformation? You probably would experience some pain, particularly at first when you find out about the situation. Then you would try to put that aside and concentrate on how you and the company could gain. Let's take a look at one company's transformation experience that was a success.
TRANSFORMING SUPPLY CHAIN FINANCE
We received the news first thing Monday morning. Supply Chain Finance was going to undergo a transformation. Here's what we were told: Based on consultant recommendations and internal analysis, the executive leadership team has decided to outsource and offshore all routine, transactional supply chain accounting activities to a third-party provider overseas in India. According to preliminary estimates, you are expected to reduce local head count by five. The intent is to announce the initiative in two weeks, begin the transition process in three weeks, and "go live" in six months. Your site, and hence your team, will be the pilot for this global initiative.
How would this work, and what were we going to do? To begin, it was imperative to fully understand the nature and scope of the initiative, then verify the preliminary assumptions, identify potential risks, and ultimately create a project plan. Several things became clear when comparing detailed local staff time studies against the third-party provider's statement of work (SOW). First, based on the detailed analysis of the work to be outsourced, fewer full-time equivalent head count (FTEs) would be transitioned than anticipated. Second, all members of the local team performed at least one of the activities to be outsourced, meaning the roles and responsibilities of all members of the team would need to be redesigned prior to going live.
In conjunction with clarifying the scope of the initiative, a number of potential challenges and risks popped up. For instance, what impact would time zone differences and language barriers have on the team's success, both during the transition and in the "future state"? Might some of the activities to be outsourced be less routine than expected or require direct interaction with local cross-functional partners to be completed?
And what happens when there's turnover at the third-party provider or there's a desire to change providers but internal subject-matter expertise has been lost? Based on this assessment, the importance of effective change management; creating detailed, pressure-tested desktop procedure manuals; and obtaining third-party provider commitments to hire high-quality staff became clear.
Drafting a Project Plan
A top priority during the first few weeks was to draft a preliminary project plan with key milestones, accountability, and timing. The first milestone, of course, was announcing the initiative to the local Finance team and other key stakeholders. Later milestones included arrival of the third-party provider's team on-site, completion of the on-site knowledge transfer phase, local sign-off on the detailed desktop procedure (DTP) manuals, onboarding of the third-party provider's full offshore team, completion of parallel testing, and go live.
Announcing that work would be outsourced and offshored and that members of the third-party provider's transition team would be arriving on-site in just a few days was, of course, a tough conversation. But everyone knew the company was facing significant headwinds and that, to remain competitive, tough choices were required. Moreover, everyone appreciated the openness and transparency in which the announcement was made. Indeed, this transparency built a higher level of trust that would prove indispensable throughout execution of the project.
Beginning the Transfer
Just a few weeks after the Monday news, the third-party service provider's team arrived on-site to begin knowledge transfer activities. To ensure alignment, it was critical to quickly review the project plan; clarify key milestones, accountability, and timing; and gain alignment on expectations regarding the importance of meeting deadlines.
The company set the right tone by immediately hosting a kick-off meeting when the transition team arrived. In addition to the third-party provider's team, the kick-off included all members of the local Finance team. During the meeting, everyone had the opportunity to begin getting to know each other and to gain a collective understanding of the task ahead.
Likewise, everyone could develop shared ground rules regarding how to interact, a rhythm for daily status checks and more formal project updates, and agreement on blocks of time to be set aside for the local team to focus on their "day jobs." The two groups would be working as one team and would consider themselves one team, which would be critically important.
Phase 1: On-Site Training
The first phase in the transition, the knowledge transfer phase, was all about training the third-party provider's team members in each of the tasks they would be assuming as per the agreed-to SOW. Some of the tasks were the bill of material closing process, the miscellaneous billings process, various fixed asset accounting activities, monthly financial closing activities, and preliminary account reconciliations.
To learn these tasks, the provider's team members interviewed and shadowed the appropriate member(s) of the local Finance team. During these sessions, they took copious notes, recorded online key strokes, and began drafting detailed, step-by-step DTP manuals so they would have all the correct steps and procedures, as well as the reasons for doing them, always available for reference.
The transition team had limited time planned on-site to complete the knowledge transfer process, and their stay in the United States couldn't be extended beyond the two to two-and-a-half months planned. To ensure they completed their work before the clock ran out, nearly every minute of face-to-face time with the local Finance team was carefully orchestrated. When they arrived, the transition team knew what topic they would be discussing with whom, when, and where for the duration of their visit. The schedule included blocks of time to schedule follow-up conversations when a given point remained unclear as well as time to begin drafting the related DTP manuals.
The transition team also knew up front what DTP manuals were expected and when a first draft of each was due. The due dates intentionally were staggered to incent the team to begin drafting the documents immediately after the related knowledge transfer session, when their understanding was fresh. The staggered due dates also enabled the local team to effectively review the DTP manuals and provide timely feedback over the course of several weeks.
The alternative would have been a rushed review of all documents with no time for the transition team to react before heading home. This approach proved highly successful, giving everyone comfort that the third-party service provider fully understood the work they would be taking on.
Phase 2: Working Together Remotely
During the next phase, which occurred once the transition team was back home in India, the third-party service provider fully staffed its offshore team and, leveraging the DTP manuals created during the first phase, began training their new hires. For a given task, the new members of the offshore team were partnered with the appropriate member(s) of the local Finance team. Initially, they shadowed the local team, albeit electronically.
Ultimately, they leveraged the DTP manuals to complete a given task with a member of the local Finance team providing oversight. By leveraging screen sharing and other technology, the local Finance team could watch how a given task was completed and provide instant feedback. This process also enabled the team to verify the accuracy and completeness of the procedure documents.
Finally, with close supervision by the local Finance team, members of the offshore team began performing specific activities assigned to them in the live environment. Throughout this phase, the offshore team continued pressure-testing its understanding of the work and validating the accuracy and completeness of the DTP manuals. This phase proved to be the most critical in building confidence among the local Finance team that the third-party service provider was ready and able to go live.
Phase 3: Going Live
The final phase was the official, staggered go live. All remaining activities were transitioned to the offshore team, again under close supervision. As the local Finance team gained comfort regarding the third-party provider's ability to complete a given task or deliverable, though, this close supervision ended. Instead, the local Finance team shifted to monitoring pre-defined daily and weekly metrics and trends, quickly following up on potential red flags and participating in formal weekly, then monthly, updates with the third-party service provider's leadership.
Quickly—much more quickly than anticipated—the project moved into a successful, steady future state. And the local Finance team began to focus more on analyzing results compared to expectations, identifying continuous improvement opportunities, providing decision support, and otherwise supporting their cross-functional business partners.
Being the pilot site for this global initiative, the local Finance team captured key lessons learned regarding what worked well and what didn't, then shared these lessons with the other supply chain finance teams in the network. The team also shared various tools that they created to manage the multiphase project effectively, including the team's "On-Shore Knowledge Transfer Schedule," "Desktop Procedure Manual Status Tracker," and "Action Item Register" templates. Most important, the local Finance team shared insights regarding its change management and communications strategy, which proved invaluable to the entire team's ultimate success.
LESSONS LEARNED
Here are some of the most important lessons everyone learned during the transition and transformation:
Compelling Business Need. Considering the investment in time and resources required to achieve a successful transformation, you should be confident the journey is justified. What problem are you trying to solve, and what is the underlying root cause? Are you trying to overcome operating in a tough competitive environment? The impact of delayed investments? Or new regulatory requirements? What, precisely, is the compelling business need?
The Case for Change. As the leader, you may be the first to recognize a transformation is needed and have a vision for the "future state," but you can't get there alone. You'll need a core team dedicated to the journey—individuals willing to make sacrifices for the greater good. Likewise, you'll need others to break barriers, reinforce key messaging throughout the broader organization, and otherwise champion the initiative. Before they support you, though, you must "sell" the initiative. You must win the hearts and minds of your team and other key stakeholders via an effective case for change.
Project Plan. Effective project planning allows you to articulate and gain alignment on project scope, milestones, timelines, budgets, and other expectations. A solid plan with realistic goals and targets can be highly motivational, enabling your team to measure progress and to celebrate milestones achieved along the way. A solid plan also enables you to quickly determine if you're headed off-track and then course-correct if necessary. But if your plan is too detailed or too inflexible, it could become an impediment to the team's success. So rather than capturing every step and deliverable for each subteam in the master plan, include only an outline of key deliverables, then let the subteams manage the details. Likewise, for initiatives extending beyond six to 12 or more months, consider fleshing out the plan as you go so you can make changes along the way if necessary.
Project Management. While you'll eventually complete your transformation, project management, or the lack of it, will likely determine when and how efficiently. Is the initiative enterprise-wide and highly complex, entailing multiple, interdependent streams of work? If so, consider assigning a Project Management Office (PMO) team to provide oversight and facilitate coordination. Are there various stakeholder groups with potentially conflicting needs and expectations? Then consider including representatives from each group on an overall Project Steering Committee, and clearly define decision rights. Is there concern that executive leadership isn't aligned with the team in the trenches? Then consider including more project team members in the formal updates, and interact informally with the team along the way.
Risk Management. You have a clear vision of the future state, have prepared a solid transformation plan, and have the right team in place to get there. But to achieve your objectives without too many surprises and to prepare for the surprises that will happen anyway, leveraging risk management effectively is mission-critical. (See my article, "Risk: Leverage It. Control It. Win!" in the Winter 2015 issue of Pennsylvania CPA Journal.) Put simply, know your objectives, know what could impede your ability to achieve them, and then decide what action to take, if any.
Consultants. Consultants can play a critical role throughout a transformation, from helping define your strategy and envisioning the future state to providing subject-matter expertise and augmenting your resources. As the leader, though, you must define what's expected of the consultants and hold them accountable. While they can make recommendations and support project execution, you are accountable to make the decisions and own the results.
Communication. From inception to completion and beyond, effective communication is critical during a transformation. You must clearly articulate the case for change, ensuring your organization understands the compelling business need and is persuaded to be dedicated to the cause. And you should overcommunicate to the project team, key stakeholders, and the broader organization during project execution to reinforce key messages, underscore priorities, help "connect the dots," and ultimately change the culture.
Change Management. Change management represents all the ways you prepare and support your people, individually and collectively, to handle the impact of a transformation. From frequent, effective communications touching every layer of the organization to promoting accountability, leveraging change agents, and recognizing achievements, you should consistently engage, engage, engage. Change management is potentially the most important ingredient for a successful initiative. Without it, there could be chaos.
Sustainability. Definitely celebrate completion of your transformation, but don't rest on your laurels too long. If a key deliverable was to enhance margin, how will you maintain these margins going forward? If you implemented a new enterprise resource planning (ERP) system, how will you address future upgrades? If you'll be promoting top performers, how will you onboard the new hires? Overall, how do you and your company sustain the benefits achieved via transformation?
MOVING AHEAD
As you've seen, whether because of competitive pressures, technology, new regulatory requirements, or other changes, many organizations must initiate costly, painful transformations. While some pain is a given, I challenge you to limit and manage it via effective planning, project execution, communication, change management, and strong leadership. You can succeed and help keep your company on track as it forges ahead.
---
5 Pitfalls to a Successful Transformation
Based on a recent Boston Consulting Group analysis, "only about 30% of large-scale efforts succeed." (See "The Five Traits of Transformative CEOs" by Lars Faeste, March 7, 2018, at https://on.bcg.com/2ylb6I2.) In other words, about 70% of transformations fail. This isn't a very high success rate, especially when you consider the significant investment in people, money, and time usually required for such initiatives. Plus, such initiatives often are a business imperative to survive and thrive.
So, unfortunately, major projects and transformations are often "all pain, limited gain." Here are several of the more important pitfalls to a successful initiative to keep in mind:
Neglecting the People. Each stakeholder involved in and/or impacted by an initiative will either be "for" or "against" it. Frequently, though, selling the need for change up front and leveraging effective change management throughout a transformation are an afterthought. Without effectively communicating your compelling business need and preparing your people for the future state, you jeopardize success from the start.


Bigger Challenge than Anticipated. Too often, due to poor up-front planning, plain and simple scope creep, or unanticipated business changes, initiatives become bigger and more complex than anticipated. For example, you thought you were simply upgrading the existing customer management system. But because of a strategic change to the company's trade spending program, now you need to build an entirely new system, hire an actuarial team, and retrain the field sales organization to make it happen.


Unexpected Roadblocks. Despite solid up-front planning and leveraging effective project management techniques, the unexpected surely will occur. Maybe a key member of the project team will depart, or the software developer will be unable to meet agreed-to specifications, or a new business need will be identified late in the game. You can guarantee there will be at least a few surprises.


Inability to Execute. Sometimes you have a great strategy and plan, but the team is unable to execute it. Maybe you don't have enough resources or the right resources. Maybe stronger leadership is needed.


The Sustainability Challenge. While effective change management may prepare key stakeholders for "day one" success, all too often little thought is given to sustainability beyond go live. For example, you likely invested heavily in training everyone leading up to the new ERP system implementation, and you provided extensive end-user support for the first few weeks, or even months, after go live. But then what? What happens when issues arise after the support period? And how will you train new hires when members of the original team move on?
---