Ted joined IMA in 1989 and served as chapter president in 2005-2006. Raynette was chapter president in 2012-2013. She joined IMA 20 years ago when husband Ted invited her to a chapter meeting as a date night. She thought IMA made sense and decided to stay. We continue to tag team with our board to help increase member benefits, student involvement, CMA® (Certified Management Accountant) certifications, networking and social events, student panel discussions at universities, student industry tours with Bob's Red Mill and Nautilus, breakfast and dinner speaker events for continuing professional education, community service activities, and more.
The Portland Chapter has grown to about 600 members and five student chapters, and Washington State University Vancouver (WSU-V) is an IMA Endorsed School with a robust CMA curriculum. This was an epic year for IMA PDX (our chapter and its social media #imapdx). Chapter President Ashley Loflin, controller at F-L Management, says, "During IMA President and CEO Jeff Thomson's recent visit, we had the pleasure of meeting with accounting and finance professionals at Greenbrier and Nike. Both were incredibly successful meetings that reinforced the value that IMA and the CMA provide. We are looking forward to lasting relationships with these companies."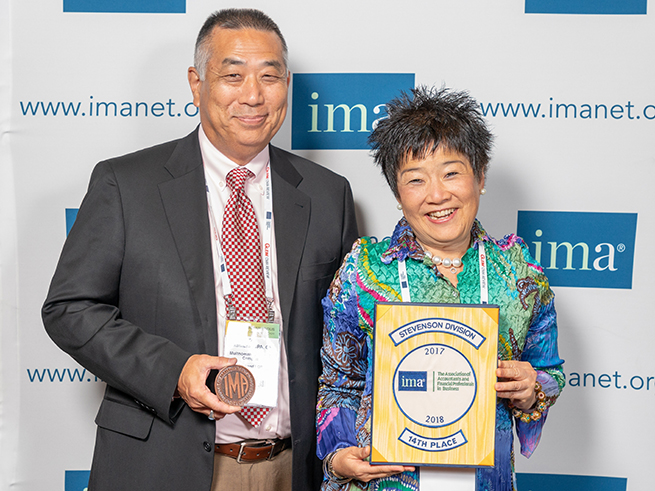 The Portland Chapter also was a winner at ACE2018 in Indianapolis, Ind. Ted shows the chapter's Bronze medal for Social Media, and Raynette holds the chapter's plaque for achieving 14th place in the Stevenson Division chapter standings for the 2017-2018 chapter competition.
IMA PDX also sponsored the 8th Annual WSU-V IMA BAP (Beta Alpha Psi) awards banquet. Our community service volunteer activities—Oregon Food Bank, Habitat for Humanity, and Lan Su Chinese Garden—were popular, and many monthly CPE events were sold out as our corporate educational sponsors helped keep our event ticket prices affordable. Also, WSU-V student Jacob Roedell was one of five students selected to attend the IMA Student Leadership Experience at the IMA Global Board of Directors meeting in Orlando, Fla.
This sums up why we and so many others have worked hard as volunteers with our Portland Chapter family. Chris Akroyd, Oregon State University faculty member and Portland Chapter board member, adds: "The biggest win this year was having more than 10 OSU students apply for the CMA Scholarships. In past years only a few students have been interested, but I feel we are beginning to gain recognition from students that the CMA can add a lot of value to their career.
I think that having one of the scholarship recipients from last year (Emily Wilkinson) pass the CMA exam while still a student at OSU has had a real impact and influenced more students to think about the CMA as an option. Emily is working at KPMG in their IT Audit Risk Advisory section, which shows that the CMA can add value to accounting firms as well as in industry."
We want to express our gratitude to IMA's Portland Chapter and IMA Global, specifically Patricia Stefanczyk and Tara Barker, who have been our mentors and lifeline; without them we would not be here today! We are proud to be part of IMA's 100-Year Anniversary.