The CES and Mobile World Congress (MWC) expos are grand competitions that feature concept designs, prototypes, betas, and promises. Not all the products displayed will make it out of development, but many do. There are themes each year at these shows. At this year's CES in January, a number of practical and affordable mobile medical monitoring devices made waves, while artificial intelligence (AI) was still gathering strength and self-driving cars got closer to a national rollout.
MWC is later this month, but in the relatively well-maintained silence of the participants, there's growing anticipation over possible significant 5G developments. The phones, modems, tablets, networks, and all things currently streaming are about to be accelerated with the thrust of 10GB-per-second engines, maybe by midyear. If this does become the Year of 5G, there will be far-reaching digital and social consequences.
So, let's take a look at these two technology expos to see what sort of windows might be opening in 2019.
CES 2019
CES first welcomed 17,500 attendees in 1967 in New York City. This year, in Las Vegas, over four days (January 8-11, 2019), more than 180,000 attendees wandered among displays of new tech offerings by 4,500 companies from more than 155 countries.
If you were hoping that the proliferation of robots would begin to slow, there was little encouragement. Bots were everywhere—some with faces, many without. One of the stars from the first day was Wilkinson Baking's BreadBot, which mixes, kneads, bakes, and cools about 10 loaves of bread an hour (235 a day).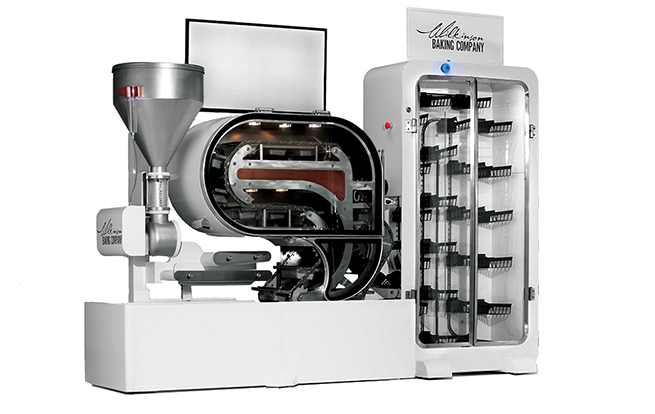 Wilkinson Baking BreadBot
Another was the ElliQ personal companion robot, which consists of three elements: the ElliQ body, a separate screen, and the base with embedded speaker and charger. The robot responds to your voice, gaze, and touch. It can do video calls and messaging; play games, music, and videos; share photos; read the news and weather; and answer questions.
Samsung brought its assortment of robots, which one attendee called a BotSquad. Included was the new Bot Air, which monitors air quality and detects sources of pollution; the robotic assistant for stores called Bot Retail; and a little white robot called Bot Care, a personal healthcare assistant that can hold a conversation or, when you put a finger on its face, can read your heart rate and blood pressure. Samsung's version of Alexa and Siri is called Bixby, and the company announced that Bixby will be embedded in Samsung refrigerators and TVs along with the droids in the BotSquad.
The transportation sector represented at the show featured new developments in the way autonomous cars see the road and recognize and communicate with other vehicles in the vicinity. Hyundai sent a concept "walking car" with extendable wheels that climb over obstacles and wade through streams. Bell Helicopters showed off its 6,000-lb. Nexus air taxi that will take you to where you're going at up to 150 mph powered by hybrid-electric propulsion. And who knew Harley-Davidson had a green side in its corporate makeup? Its new LiveWire motorcycle is fully battery-powered and will go on sale in August for $29,799.
The vision presented at CES is really kaleidoscopic. Some of its new technology is even designed to retrofit the past for where we are now. Still have your extensive collection of LPs, or did you get rid of it in the last garage sale? If so, don't check out the new Sony low-profile turntable for vinyl 33s and 45s. It converts analog tracks to Bluetooth streams, no amps or preamps needed—just an electric outlet for the turn­table and a Bluetooth-enabled speaker.
For an interesting overview of what happened in Vegas this year, just search "the best of CES 2019" online, or go to the website at https://ces.tech and browse the companies for their view of the road in 2019.
MWC19
Mobile World Congress will open in Barcelona, Spain, on February 25, 2019, and will run for four days. Calling itself the largest mobile event in the world, this year's guiding rationale is "Intelligent Connectivity." The phrase encompasses flexible high-speed 5G networks, the Internet of Things (IoT), AI, and Big Data. For the 2,400 companies attending, 5G is expected to be the overriding concern of 2019, and with a browser, you don't have to attend yourself in order to get a look through the windshield at the road ahead.