One way we're doing that is by developing innovative, localized products and services, both for those who are preparing to earn their CMA® (Certified Management Accountant) certification and those who are already certified. We're extending this local emphasis across our membership, with some special focus on our bilingual user experience in China, where we continue to witness unprecedented growth and a surging demand for our certification.
Other innovations include a soon-to-be-released podcast series titled "Count Me In" that will feature digital audio presentations about key topics affecting accounting and finance professionals. This new series will be available to members and nonmembers alike through the IMA website and other podcast platforms, and it will help solidify our reputation as a thought leader in the profession. Our Education and Career Services team also is working to develop exciting new products, including, for example, our "Webinars on Demand" series that allows members to access previously recorded versions of our popular webinars anytime, anyplace, and at no cost.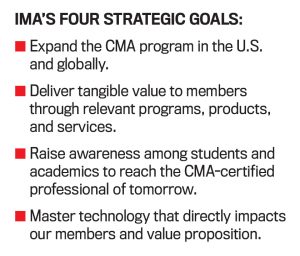 Finally, we're helping shape the dialogue around the future of the profession by developing resources such as our newly updated Management Accounting Competency Framework and our CareerDriver® tool. These resources, and others like them, are aimed at helping management accounting professionals become and remain future-ready amid rapidly accelerating technological changes.
To help us achieve these ambitious global goals, we're expanding our already-strong staff. We plan to boost the head count in each of our global regions (Americas, Europe, Asia/Pacific, and Middle East/India) so that we can better meet the needs of our global members in a more local way. We're also investing in new, innovative technology in order to improve our member experience and program delivery.
I, along with the Global Board of Directors, look forward to executing on our fiscal 2020 goals and keeping our commitment to sustained growth and service to our members and the profession.